Informacje z Euroregionu Bałtyk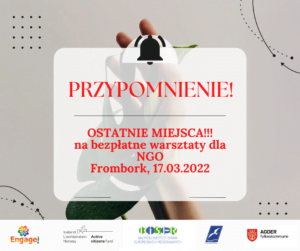 Engage!tl-ne Engage! News Projects English pll_622b2d77b191f Engage!
REMINDER!
We would like to remind you that there are the last places for NGO workshops, which will take place on March 17, 2022 in Frombork!
Workshop host: Fundacja Żółty Szalik, ul. Braniewska 11A, Frombork
If you want to:
-raise awareness of taking international action improve professional skills in developing international cooperation
- gain inspiration to mobilize forces in order to work more effectively in project teams
- learn about innovative tools that allow you to work more creatively
Come to the free workshop organized by our Association, in the hospitable land of Frombork.
We provide: creative work using interesting tools in the World Cafe form
https://docs.google.com/forms/d/e/1FAIpQLSe2eJp0SClbFiQIMPGRaCzhtvMfCEtSY_kz5wX2ybVQ2dxK4A/viewform?usp=sf_link
The project is implemented with a grant from the Active Citizens - National Fund funded by Iceland, Liechtenstein and Norway through the EEA Funds